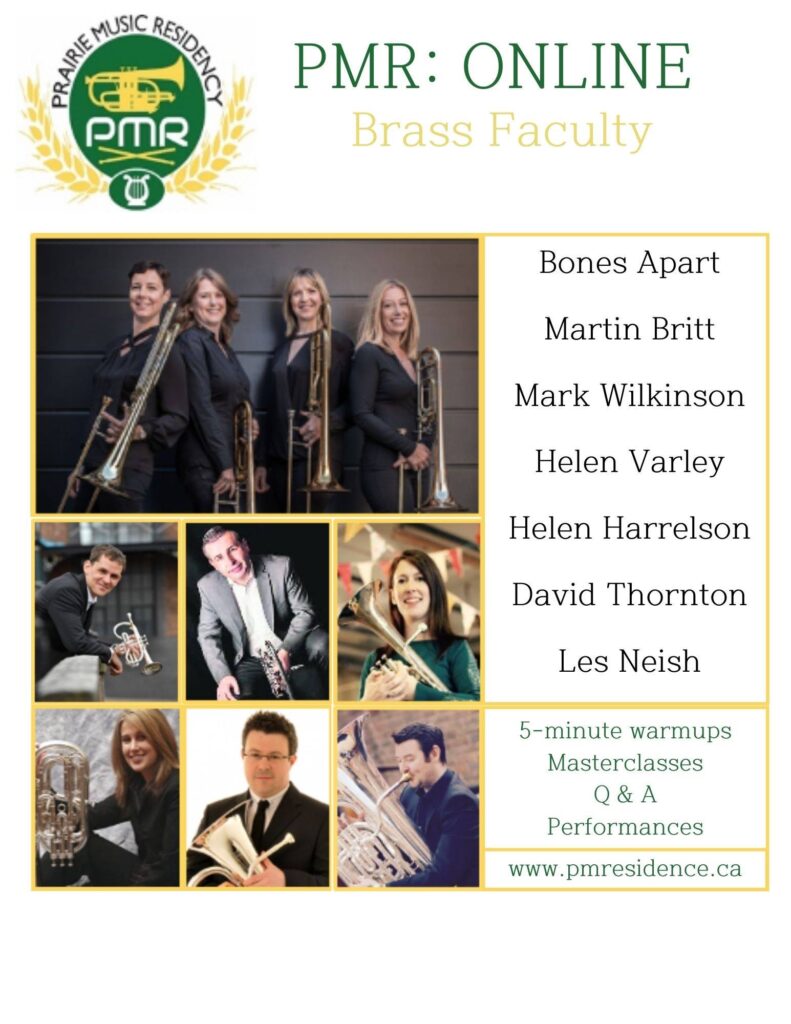 Mark Wilkinson – Cornet (Spotlight Artist)
Sunday August 9th 10am CST
Mark started playing the cornet aged 6 with his local band Ellenbrook and Boothstown before moving to the Walkden Band and then Besses Boys aged 13 where he stayed for 5 years on Principal Cornet. During this time Mark was also appointed Principal Cornet with the 'National Youth Brass Band of Great Britain.' When he was 18 Mark joined the Wingates Band on Principal Cornet for 2 years before accepting Howard Snells offer to join the Britannia Building Society Band (now Foden's) on Principal Cornet in 1992. During this time he has been privileged to have won every major contest with Foden's including the British Open, National Finals, European Championships, Swiss, French and American Opens as well as numerous victories at the All England Masters Contest, Area Contest and Brass in Concert entertainment competitions.
As well as performing in France, America, Holland, Belgium, Norway, Australia, Switzerland, Italy and Ireland as a soloist Mark is also heavily involved in Youth education. Mark enjoyed 3 years as the cornet tutor with the 'National Children's Brass Band of Great Britain' and has been an entrance examiner and cornet tutor with the 'National Youth Brass Band of Great Britain' since 2000. Mark has also appeared as a cornet tutor with the 'National Youth Brass Band of Wales' 'National Youth Band of Switzerland' as well as a guest soloist with the 'National Youth Brass Band of Denmark.'
As well as being a founder member of the 'Northern Ireland Armagh Summer School' Mark is in demand on various summer schools in this country and abroad.
In 2010 Mark was appointed as 'Visiting Cornet Tutor' at the Royal Northern College of Music, Cornet Tutor at the 'University of Salford' and Cornet/Trumpet Tutor at 'Manchester Metropolitan University.'
In 2013 Mark released a Solo cd entitled 'Milestone' which received critical acclaim, designed and produced a range of cornet mouthpieces produced by 'Pickett Brass' and was appointed Band Manager of Foden's Band.
Mark is in demand in this country and abroad as a cornet soloist, teacher, conductor and clinician. Mark is also in demand as an adjudicator and has adjudicated at a number of leading contests including various Area Contests, National Finals, Swiss and Belgium Nationals, Grand Shield, Pontins, Butlins and the All England International Masters. Mark was appointed on the 'Association of Brass Band Adjudicators' Executive Committee in January 2017 and became Chairperson of the Association in January 2018.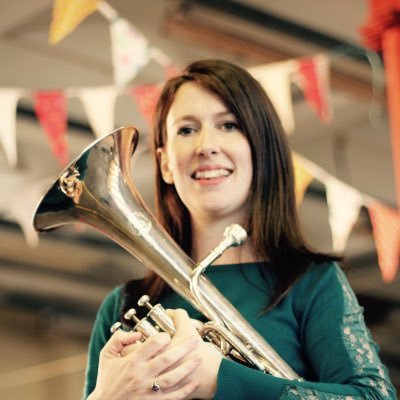 Helen Varley – Horn (Spotlight Artist)
Friday August 7th 10am CST
We are delighted to bring Helen back to our PMR faculty after she was our feature soloist in 2017. Helen was brought up in Yorkshire, an area well known for its prolific banding heritage, and was taught to play by her mentor James Shepherd, former principal cornet of the Black Dyke Band.
Helen spent many years as solo horn of the BT Band, followed by several years as solo horn at the YBS / Hammonds Saltaire Band. Helen has also been the horn player with the highly successful 10-piece brass ensemble James Shepherd Versatile Brass, and in 2013 Helen joined the Black Dyke on 1st horn.
In 2003 and 2004 Helen reached the finals of the British Open Solo contest, on both occasions winning the instrumental title of Champion Horn Soloist, a prize which she won again in 2008.
Helen studied Physics with Acoustics at Salford University, and worked for over a decade as an acoustic consultant for the UK's largest architectural practice, involved in the design and construction of building projects around the UK and abroad, including concert halls and educational buildings.
In 2016 Helen left the construction industry to follow her passion in music, undertaking a Masters degree in performance at the Royal Northern College of Music in Manchester. Helen is now developing a successful teaching career, and is currently tenor horn tutor at Salford University, Royal Birmingham Conservatoire, the Junior RNCM and Chethams School of Music, as well as working as a peripatetic brass teacher for Bradford Music Service and providing occasional teaching work at Kneller Hall Royal Military School.
Helen was delighted to accept the position of solo horn at the Grimethorpe Colliery Band in 2017, a band that she has admired from a young age ever since hearing the wonderful sound of a brass band for the first time on Grimethorpe's acclaimed CD 'Classic Brass'.
Bones Apart – Trombone (Spotlight Artists) Sunday August 9th – 1pm CST
Highly acclaimed trombone quartet Bones Apart has established itself as one of the world's leading chamber ensembles. Since forming in 1999, this unique group went on to win the prestigious Royal Over-Seas League Competition, Rio Tinto Ensemble Prize and Miller Trophy, and has performed at major venues including London's Wigmore Hall, Queen Elizabeth Hall, Fairfield Halls, Royal Festival Hall, St. James's Palace, St. Martin-in-the-Fields and Symphony Hall in Birmingham. Bones Apart has also appeared on television and radio, and been featured in articles in Muso Magazine and the Brass Herald in addition to broadcasts on BBC television and radio.
The quartet has appeared as a guest artist at many national and international music festivals including the Cayman Arts Festival, Edinburgh International Festival, International Belgian Brass Academy, International Trombone Festival, Leicester International Music Festival, Lieksa Brass Festival, Music In The Round, Royal Over-Seas League Arts, Sauerland Herbst Festival and the Vilnius Festival. This has involved touring throughout Europe, the United States, Japan and the Caribbean.
The members of the ensemble (L to R): Sarah Williams, Helen Vollam, Becky Smith and Jayne Murrill bring together a wealth of performing experience at the highest level, from symphony and chamber orchestra, early and contemporary music, to brass band and jazz.
The group is keenly involved in education and outreach projects and is often invited to give masterclasses and ensemble coaching at schools and conservatoires. Recent masterclasses have been given at the Juilliard School of Music in New York, Rutgers State University in New Jersey, the Royal Welsh College of Music and Drama and the Royal Northern College of Music.
Bones Apart has recently become an ambassador for pBone, a new plastic trombone designed to encourage more interest in the trombone and making music. Through this initiative Bones Apart has given a series of highly successful schools workshops demonstrating music and the pBone to primary school children.
Their hugely diverse recital programmes incorporate music of all styles and genres including baroque, classical, latin, jazz, popular and contemporary music. Bones Apart has commissioned many works for trombone quartet from composers such as Gary Carpenter, Matthew Taylor, Christian Lindberg, Dan Jenkins and John Kenny.
Bones Apart has recorded a number of CDs – All We Want For Christmas (2012), ten (2009), four4four (2009) and Enigma (2006). The quartet play on Conn-Selmer trombones and are proud to be associated with Wallace Mutes.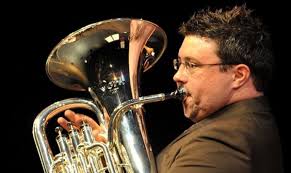 David Thornton (Euphonium) Spotlight Artist
Thursday August 6th 10am CST
http://www.euphoniumsoloist.co.uk/
Dr. David Thornton is regarded as one of the foremost euphonium players and teachers of his generation and has a global reputation. His work as a soloist, conductor and educator is renowned throughout the brass playing world to have a distinct hallmark of extreme virtuosity, professionalism and an ability to connect with audiences like few others in his field.
His work within the brass band world has seen him at the top flight for almost twenty years. He has held solo euphonium positions with the Fairey Band (1997-2000), the Black Dyke Band (2000-2010) and the Brighouse & Rastrick Band (2011-2015) having won five National titles, three British Opens and one European Championship during this time. David is currently the solo euphonium player with the world famous Foden's Band.
Born in Nottingham in 1978, David began his euphonium lessons at just eight years old and only five years later became the first ever euphonium player to gain a place at Chetham's School of Music, one of the UK's most prestigious institutions for specialist musical education.
Since then his success has earned him many awards, such as scholarships from the Countess of Munster Trust and the Yamaha Music Foundation of Europe, a hatrick of solo awards at the National Euphonium Conference 1995, 1997 and 1999, first prize at the Verso Il Millenio International Euphonium Competition, but most notably as the International Euphonium Player of the Year 2001.
David is constantly working to seek out new solo repertoire in as many different guises as possible. He has given world premieres by composers such as Philip Wilby, Peter Meechan, Simon Dobson, Torstein Aagaard-Nilsen, Peter Graham, Phillip Venables, Lucy Pankhurst, Richard Rock, Kit Turnbull and D. Edward Davis.
As a recording artist David has released four solo albums. His debut CD, 'Three Worlds', was awarded Solo CD of the Year for 2004 by the British Bandsman magazine. David released his second solo album, 'Devil's Duel' in May 2007, Sempre Libera in January 2014 and Parallel Realities in March 2015. Furthermore, David features as a soloist on 30 different albums of band music, including 'Epic Brass' and 'Jubilee Brass' – live recordings of two concerts at the Royal Albert Hall.
Considering David's relatively young age, his achievements in education are also quite remarkable. He tutors at the RNCM, the University of Huddersfield and Chetham's School of Music. His current and former students already hold principal positions in many leading bands around the UK.
David is a course director for the Bolsover Brass Band Summer School and has been a course tutor for the National Youth Brass Band of Great Britain, National Youth Brass Band of Wales, National Children's Brass Band of Great Britain, National Youth Wind Orchestra of Great Britain, the International Brass Band Summer School (Swansea) and the Wessex Band Summer School. David is also a fully certified member of ABBA.
David Thornton is a Sterling Musical Instruments performing artist and consultant and plays exclusively on the Sterling Virtuoso Euphonium. He also holds an undergraduate degree from the Royal Northern College of Music and a DMA from the University of Salford.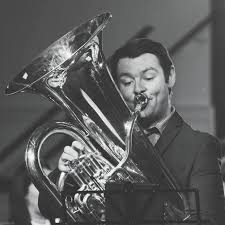 Les Neish – Tuba (Spotlight Artist)
Saturday August 8th 10am CST
Les Neish has created a career as a soloist, chamber musician and educator with a world-wide reputation.
Known for his musicianship, artistry and high level of communication, Les dazzles audiences with fabulous technique and stunning musicianship.
Performing the first solo tuba recital at the Bridgewater Hall, Manchester and the first tuba player to be awarded the Worshipful Company of Dyers Award at the Royal Overseas League Competition, Les has always pushed the boundaries.
His 3 solo releases, Salt of the Earth, Shine and Affinity have won numerous awards including Brass Band World, British Bandsman, 4barsrest.com Solo CD of the Year and the prestigious Roger Bobo Award in Recording Excellence from the International Tuba Euphonium Association.
Away from solo performance Les is part of the tuba section of the Brass Band and as a chamber musician is a member of the Fine Arts Brass Ensemble, a group with a 30 year history having performed in over 60 countries. He has also performed with orchestras throughout the UK, including the Halle, RTE Concert Orchestra, Ulster Orchestra and London Symphony Orchestra.
Alongside his performing commitments Les is tuba tutor at the Royal Northern College of Music, RNCM Junior School, Salford University and Birmingham Conservatoire. He has also given masterclasses at the Trinity College and Royal Academy of Music, London.
He has served as tutor on the National Youth Brass Band of Great Britain, Scotland, Wales and Switzerland and has performed workshops and classes throughout the UK, Europe, USA, South America, Japan and Australia.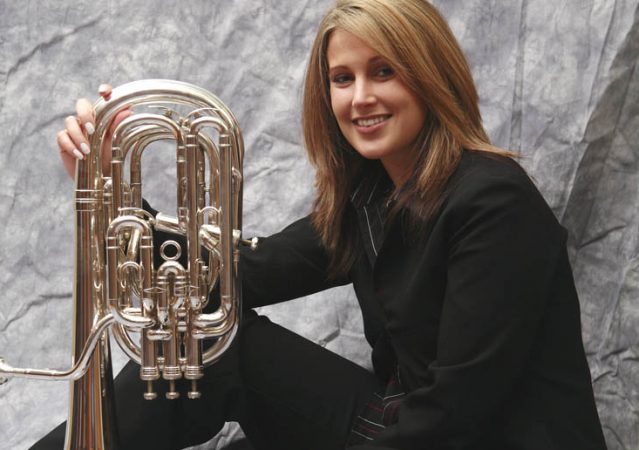 Helen Harrelson (Baritone) Spotlight Artist
Saturday August 8th 11:30am CST
https://www.besson.com/artist/helen-harrelson/
Helen Harrelson began her playing career on euphonium with the Rotherham Schools Band before progressing to the National Youth Brass Band of Great Britain. She later changed to baritone and was accepted at the Royal Northern College of Music where she studied with James Gourley, Sandy Smith, Steven Mead, and Bob Childs. Over the past 20 years Helen has been a member of some of the world's finest brass bands including Black Dyke, Fodens, YBS, & Fountain City with whom she has toured, recorded and competed. Helen has won numerous national titles both in the UK and USA.
Helen has been a guest artist and clinician for the North American Brass Band Summer School, the International Woman's Brass Conference, the International Tuba & Euphonium Conference, Kansas Music Educators Association, Missouri Music Educators Association and received an award for outstanding contribution to music education from the Kansas Bandmasters Association.
Summer 2007 saw Helen take a voluntary sabbatical to Kansas City to perform with the Fountain City Brass Band and develop their youth brass band program. The Fountain City Youth Brass Academy has gone on to win 5 national titles in the last four years and the program had over 130 students currently enrolled. Her love of Kansas City saw her return back to the US in 2008 as Instrumental Music Teacher at St. James Academy. Since then, she has developed the school's band and orchestra program and won two Blue Star Awards for Outstanding Pit Orchestra (Beauty and the Beast 2013, & Guys & Dolls 2016). In 2015 Helen completed her Masters of Arts in Music at the UMKC Conservatory of Music and Dance
Martin Britt (Soprano Cornet) Spotlight Artist
Thursday August 6th 1pm CST
Martin Britt has long been regarded as one of the banding world's finest soprano players and he enjoys performing all over the world. Martin studied Trumpet at The Royal Academy of Music with James Watson, John Wallace and David Staff before enjoying a career as a freelance trumpeter. Playing all styles, Martin's career spanned from playing Rock music whilst touring with Roger Daltrey of THE WHO, to running his own period instrument ensemble. Martin is now a brass band player in the true sense with a day job but performing at the highest level in his free time. Martin is a regular guest soprano player with some of the world's best brass bands and as such has won the European Championships with Cory band, three New Zealand Naationals with Woolston Brass, the All England Masters with Desford Colliery Band, the National Eisteddfod with Tredegar Town band and regularly plays with GUS and Brighouse & Rastrick bands amongst others. Martin recently joined Bayerische Brass Band Akademie ("3BA"), based in Augsburg, with whom he has performed at the European Championships and contributed to their sixth National Title in 2016.