TorQ   Friday August 6th 11:30am CST
Described as "outstanding – no, make that astonishing!" (Ottawa Citizen) and as having a "sense of unbreakable continuity and energy" (Toronto Star), Canada's TorQ Percussion Quartet continues to bring new vitality to percussion repertoire and performance. Richard Burrows, Adam Campbell, Jamie Drake and Daniel Morphy have given recital tours across Canada and the US and performed at Ottawa Chamberfest, Open Ears Contemporary Music Festival, Indian River Festival, Stratford Summer Music, the Music Garden Toronto, the Canadian Opera Company concert series, the Percussive Arts Society International Convention, and many others. They have also performed as a featured soloist with the Toronto Symphony, Buffalo Philharmonic, Orchestra Symphonique de Montréal (for which they were recently awarded the Prix Opus from the Quebec Music Council), Stuttgart Chamber Choir, University of Toronto Wind Ensemble, Ontario Honour Band and University of Saskatchewan Wind Ensemble (WASBE 2015), amongst others.
TorQ is committed to developing and performing Canadian music: they have premiered over 80 pieces (including three concertos) by composers such as Nicole Lizée, Christos Hatzis, Michael Oesterle and Dinuk Wijeratne, and each ensemble member also contributes compositions and arrangements. They have released four albums on their own label Bedoint Records (the most recent of which, Modulations featured TorQ commissions by Daniel Morphy, Christos Hatzis and and Peter Hatch) and their recording (with soloist Ben Reimer) of Lizée's "Katana of Choice" was nominated for a 2019 Juno for "Classical Composition of the Year."
Strong advocates for musical education, TorQ has played school concerts for more than 130,000 students and given masterclasses and workshops at universities across North America. The TorQ Percussion Seminar, run collectively by all four TorQ members and now in its eighth year, has collaborated with Acadia University and Stratford Summer Music and this year will be returning to work with the Lunenburg Academy of Music Performance in Nova Scotia.
TorQ endorses Yamaha Percussion, Innovative Percussion, Dream Cymbals, Black Swamp Percussion and Remo Percussion.
"…confidence, energy, and subtlety shone darkly in a powerful and theatrical performance of a work that stands outside of trends or time. They may be young men, but they have old souls." (www.MusicalToronto.org)
Other performance highlights have included concerts with the Gryphon Trio, pre-eminent Canadian percussionist Beverley Johnston, accordion virtuoso Joseph Macerollo, solo and chamber music for visits by world-renowned composers Kryzstof Penderecki, Chen Yi and Anders Hillborg, as well as serving as Artist-In-Residence for the Silverthorn Symphonic Winds. Peter recently performed the Canadian premiere of noted American wind ensemble composer Brian Balmages' concerto "Escapades" with the composer conducting. Peter is an endorsing artist for D'Addario Woodwinds Canada.
Andrea Venet
Friday August 7th 1:30pm CST
www.andreavenet.com
Dr. Andrea Venet is a percussion artist, soloist, educator, and composer specializing in contemporary and classical genres. She is currently Assistant Professor of Percussion and head of the department at the University of North Florida, where she directs the UNF percussion ensemble, teaches applied lessons, pedagogy, methods and percussion literature. Her creative activity includes performance, composition, and commissioning new works.
As an international soloist, chamber musician, and clinician, Andrea maintains an active performance schedule, having held appointments in Europe, Japan, Canada, and Trinidad. Andrea has been a featured soloist at the Celebrate Marimba Festival, The Steve Weiss Mallet Festival (Barnes Foundation, PA), Prairie Music Residency (SK, Canada), with the Kutztown University Symphony, in addition to being a featured performer with SNL percussionist Valerie Naranjo, Ivan Trevino, the Lawson Ensemble, Project Trio, and the Eastman Percussion Ensemble. Early in her career, Andrea was a member of the award winning Santa Clara Vanguard Drum and Bugle Corps from 2002-2004 and performed with Grammy winning alternative band TOOL with the Gilbert Drumline in 2001.
Andrea has performed and presented at the Percussive Arts Society International Convention multiple times, the Florida and Virginia Music Educators Association conventions, The College Music Society National Conference, the International Trombone Festival, and has been invited to co-present at the World Symposium of Choral Music in Auckland, NZ in 2020 with Dr. Cara Tasher.
Dr. Venet's percussion duo, Escape Ten, maintains a steady performance schedule touring as guest artists and clinicians nationally and internationally, consistently featured as chamber artists and clinicians at music festivals, concert series, conferences, and universities. Through collaboration with composer Eric Guinivan, they are the recipients of a marimba duo commission awarded from the prestigious Fromm Foundation entitled Illuminations (2018), which they premiered at the Cummer Museum in Jacksonville, FL. In 2016 they performed a Showcase Concert at the Percussive Arts Society International Convention, giving 3 world premieres. Select appearances include performances in Spain at the Ágora Actual Percussion and WASBE 2019 festivals, the Academy of the Performing Arts (UTT) in Trinidad, at the Barnes Foundation in Philadelphia, The Eastman Summer Percussion Festival, and at the Leigh Howard Stevens Marimba Seminar. They have collaborated with composers Michael Burritt, Russell Hartenberger, Aurél Hollo, Emmanuel Séjourné, Ivan Trevino, Joe Locke, Steve Danyew, Steve Ridley​,​ Drew Worden​, and Kelly Rossum. As signature artists, ​Escape Ten has their own mallets (2020) and publication series of new percussion duos through Malletech/Keyboard Percussion Publications (KPP). You can hear them their albums, My Favorite Things (Parma Records, 2020) and Colours of a Groove (2014).
Andrea's compositions and arrangements can be found self-published via her website, through Keyboard Percussion Publications (KPP), Tapspace, and Alfonse-Production, in addition to articles published with Percussive Notes and Rhythm!Scene magazines. A passionate educator, Andrea's research involves pedagogy, with focus on college percussion education at various levels, classical improvisation and historically informed Baroque performance practice techniques for Bach on marimba. She has presented her lecture recital entitled "Affekt and Execution: Historical Performance Practice and Contemporary Techniques for performing Bach on Marimba" multiple times across the country. Andrea holds a DMA in Performance and Literature with a minor in Pedagogy, and the prestigious Performer's Certificate from the Eastman School of Music. She received her Masters and Bachelors degrees from Rutgers and Arizona State University, respectively. Andrea is endorsed by Malletech, Remo, DREAM Cymbals, Black Swamp Percussion, and currently serves as the Percussive Arts Society Florida Chapter President
Gavin Pritchard
Friday August 7th 11:30am
A professional percussionist and educator, Gavin Pritchard regularly performs with the Orlando Philharmonic, the Florida Orchestra, at Walt Disney World in the orchestras as well as many others. As an educator he has held/holds teaching positions at Salford University in the UK, Stetson University in Florida, as well as many local schools grades 6-12.
Gavin was born in Yorkshire into a very musical environment. At the time, his father Gareth, was Principal Cornet with the Brodsworth Colliery Band and then GUS/Rigid Containers Band. As a toddler, Gavin would regularly attend rehearsals with his father often sitting under his seat listening to the band. He even learned how to follow (the percussion line at least) a score before he could read and write. It was also not unusual to find Gavin in the kitchen with pots, pans and wooden spoons playing his own "drum kit"!
At the end of 1990, the whole family moved to Norway and Gavin immediately became involved with music on a more serious level. His first band was Tomrefjord Skulekorps from the small village of Tomrefjord (2,000 inhabitants) in the North West of Norway. His father was the conductor at the time and when he was given a list of players, he noticed that there was a vacancy on percussion. Bearing in mind events with Gavin up to that point and also initially seeing it as a way to meet new friends, he suggested that Gavin take the vacant spot in the percussion group. Thus began his career as a Percussionist.
Gavin's progress as a percussionist was quite startling and during his very successful time in Norway, he played with: Tomrefjord Skulekorps, Molde Brass Band, Molde Symphony Orchestra, Haukaas Musikklag, Radoy Brass, Sandefjord Brass Symposium, Vestfold Symphony Orchestra, Nanset Wind Band and as an invited guest player with the Royal Norwegian Navy Band.
In 1998, the family moved back to the UK where Gavin studied at the RNCM in Manchester. After graduating, Gavin has worked as a peripatetic teacher and also as a freelance percussionist. He started in brass bands in the UK with Leyland before moving on to YBS where he played with them for over 7 years. After his time with YBS, Gavin played with many of the top brass bands in the UK.
Away from bands, Gavin also regularly worked with the major Orchestras in the UK, including the BBC National Orchestra of Wales and the Royal Liverpool Philharmonic Orchestra. At the beginning of 2012 he also recorded all the percussion tracks for the music used at the Olympic Games in London.
Since moving to Florida in 2015, Gavin has established himself as a professional freelance percussionist as well as an educator, working with many of the top ensembles as well as at numerous institutions throughout the state.
Darrell J. Bueckert
Thursday August 6th 1pm
Darrell is a graduate of the University of Manitoba (B.A.) and the University of Saskatchewan (B.Mus. Mus.Ed. and M.Ed. in instrumental music). He has performed with many professional organizations including both the Winnipeg Symphony Orchestra and the Saskatoon Symphony Orchestra where he is now Principal Timpanist. In this role he has played for internationally known conductors and performers, Broadway musicals and touring ballets, as well as local choirs and theatre groups. His performances with other ensembles have taken him to Europe, the USA, and many parts of Canada including a series of performances in Inuvik and Aklavik, North West Territories. In 2000 he established Seashell Sound Productions in Saskatoon, specializing in producing quality acoustic recordings. Darrell's performances, compositions and arrangements have also been recorded by CBC radio and featured on CBC radio Saskatchewan. In addition to his private teaching studio, Darrell is also on faculty with the Department of Music at the University of Saskatchewan as Applied Percussion Instructor and Sessional Lecturer in Music Education. From 2006 to 2009 Darrell was also Adjunct Professor to the College of Graduate Studies and Research at the University of Regina.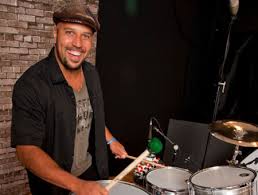 Marcus Santos – Grooversity: Rhythm 101
Sunday August 9th 10:30am
A contemporary percussionist and educator, Marcus, is a native of Bahia, Brazil. He commits his life to the study, teaching and performance of his hometown's Afro-Brazilian music and heritage.
Marcus performed with several world renown artists such as the Gypsy Kings (Spain), Daniela Mercury (Brazil) and the Brand New Heavies (England). He has also performed for the president of Brazil, TEDx and with the "One World Band" produced by MTV. Marcus also played at the Sony Pictures Oscar nominated movie 'Rachel's getting Married' with Anne Hathaway. He has been honored with the 2013 KOSA Recognition award, Outstanding Arts Performer Award by the Brazilian Immigrant Center (2008) as well as Outstanding Percussionist Award by Berklee College of Music in 2004.
Marcus currently teaches in the Boston area at New England Conservatory, Middlesex Community College and Somerville High School. He is the author of the DVD 'Modern Approach to Pandeiro' and performed in the music education DVD 'Musically Speaking II' by BOSE. Marcus has lead workshops on Afro-Brazilian percussion and music for Social Change in festivals, universities and conventions around the world such as Fiesta Del Tambor (Cuba), Carnegie Hall (NYC), PASIC (USA) and Harvard University. He is currently the artist director of the Grooversity global drumming network project that includes twenty four drumming groups from the US, Canada, Germany, Mexico and France.
Allan Molnar– Improvisation
Saturday August 8th 3:30pm
Allan Molnar is a recording artist, composer, vibraphonist, drummer and percussionist who currently resides in New York where he freelances in the music profession and holds the position of Jazz Lecturer at Lehman College (Bronx, NY). Prior to moving to NYC Allan was very musically active in Toronto, Canada. His experiences include many live and recorded performances in a variety of genres including jazz (Glen Hall, Roswell Rudd, Don Thompson, Phil Nimmons), Latin (Vibrason, Con-Cache, Larry Harlow) and pop (Nelly Furtado, Jarvis Church, Stacie Orrico). Allan contributed vibraphone tracks to Nelly Furtado's Grammy and Juno Award-winning albums "Whoa Nelly" and "Folklore."
Allan spent 20 years teaching with the Toronto Catholic District School Board and successfully brought many elements of professional music to the classroom by way of his MIDI-assisted approach to teaching instrumental music. His students have benefited from the performance and compositional aspects of this innovative approach to creating music. More than 130 music teachers have been able to duplicate important elements of Allan's program in their own schools as a direct result of his original teaching resources and many workshop appearances at conferences and universities.
Allan Molnar is a recipient of the prestigious "Prime Minister's Award for Teaching Excellence." He continues to work as an independent music education consultant and as a resource teacher for the Canadian Teachers Federation through the "Sharing Teaching Excellence" program.
Allan is a faculty member of the KoSA International Percussion Workshops, works as a clinician for Latin Percussion, ProMark Drumsticks, and Sabian Cymbals, and has served as chair for the Percussive Arts Society Music Technology Committee.
Allan is the cofounder and artistic director of The ALIVE Project (Accessible Live Internet Video Education) and provides arts-oriented distance learning opportunities for students in schools worldwide. Allan presently serves as Executive Producer/Producer and Artistic Director of the Johnny Pacheco Latin Music and Jazz Festival at Lehman College.