Peter Stoll (Clarinet)
Saturday August 8th 1:30pm
Known for his virtuoso energy on stage, creative musical arrangements and an entertaining way of speaking with the audience, Peter Stoll is one of Canada's most innovative and versatile clarinetists. He was a prizewinner in the International Clarinet Society Competition, and also Solo Clarinetist with the World Orchestra of Jeunesses Musicales in Berlin and Vienna, which was broadcast on live television across Europe. Peter won First Prize in Chamber Music at the National Competitive Music Festival, for whose 50th Anniversary edition he was invited back as Woodwind Adjudicator, and as soloist in the Gala Celebration Concert in Winnipeg.
Peter has been guest soloist with orchestras in Canada and the United States, and was invited to Russia for solo performances with the Saratov Philharmonic's "Volga Wind Ensemble" and to present masterclasses at the State Conservatory. International performances have also included twice at the ADeVantGarde Festival in Munich, Germany, as well as Finland, Great Britain, Holland and Belgium. In October 2013 he was flown to Japan to take part in the Yamaha Music Foundation's "Junior Original Concert" at Bunkamura Hall in Tokyo. In October of 2014 Peter travelled to three cities in China on a new music exchange with conservatories there, organized by the University of Toronto.
Principal Clarinetist of the former Toronto Philharmonia for 10 years, Peter has continued to perform with many regional ensembles, including the Hamilton Philharmonic, Kitchener-Waterloo Symphony, Niagara Symphony, Toronto Operetta Theatre, Toronto Masque Theatre, Opera York, Tapestry Opera, and the Talisker Players. In 2019 he won a Dora Mavor Moore Award as part of Best Ensemble-Opera, with Against the Grain Opera Theatre.
Summer festival performances have included a tour with the Swiss Piano Trio, the Ottawa and Vancouver Chamber Music Festivals, the Festival of the Sound, Manitoba's Clear Lake Festival, the Niagara International Chamber Music Festival, the Banff Centre for the Arts, the Ottawa Valley Festival, the Toronto Summer Music Festival and the Music Garden, and as a Mentor with the Boris Brott Music Festival's National Academy Orchestra for many years.
Peter teaches clarinet, chamber music, performance studies and The Business of Music at the Faculty of Music, University of Toronto. He is also a member of the Royal Conservatory of Music's National College of Examiners, and is much sought after as an adjudicator at music festivals across the country. In 2014 Peter served as the chief compiler of the new Clarinet Syllabus for RCM Examinations. He continues to serve as the Winds Area Specialist for RCME.
Other performance highlights have included concerts with the Gryphon Trio, pre-eminent Canadian percussionist Beverley Johnston, accordion virtuoso Joseph Macerollo, solo and chamber music for visits by world-renowned composers Kryzstof Penderecki, Chen Yi and Anders Hillborg, as well as serving as Artist-In-Residence for the Silverthorn Symphonic Winds. Peter recently performed the Canadian premiere of noted American wind ensemble composer Brian Balmages' concerto "Escapades" with the composer conducting. Peter is an endorsing artist for D'Addario Woodwinds Canada.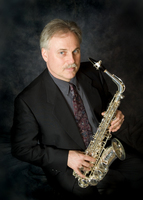 Glen Gillis (Saxophone) Spotlight Artist
Glen Gillis, Professor of Music, conducts the Concert Band and several saxophone ensembles, and teaches saxophone, conducting, and music education courses at the University of Saskatchewan.  Dr. Gillis is a Conn-Selmer Artist/Clinician and continues to maintain an active schedule in saxophone performance. He has performed at numerous international music conferences (World Saxophone Congresses and North American Saxophone Alliance Biennial and Regional Conferences) and has appeared as a guest soloist with orchestras and wind ensembles in Canada. As a member of SOCAN (Society of Composers, Authors, and Music Publishers of Canada), his diverse performance career and musical experience has spanned over three decades in the realms of classical and jazz, with many published compositions for saxophone, and band through Eighth Note Publications (distributed by Alfred Music). He released SaxSpectrum (2009) and SaxSpectrum 2 (2014) through the MSR Classics label performing and displaying many of his compositions and commissioned works, all world premiere recordings. International music magazines such as Fanfare,American Music Guide, BBC Music Magazine, and Gramophone gave stellar reviews of his CDs. SaxSpectrum 2 also received a nomination for the 2015 Instrumental Recording of the Year from the Western Canadian Music Awards. He can also be heard on didgeridoo.diversions (Hoot/Wisdom Recordings 2007) and Devotion (Ice Music Press 2015). In 2012 he toured China and performed at five city/university venues that included: Beijing, Tianjin, Xi'an, Kunming, and Shanghai. In February 2013 he hosted the North American Saxophone Alliance Region 9 Conference. In 2015 he was appointed as the NASA Region 9 director to a two-year term. In the last two decades Dr. Gillis has commissioned numerous works for classical saxophone and has collaborated with many artist musicians, conductors, and composers. He has matriculated many saxophone students at the high school and college level who have received provincial and national awards. Dr. Gillis has given numerous clinics at high schools and colleges over his career and has also served as an artist-in-residence at the Banff Centre in Alberta on five occasions. As an original member of the Saskatoon Saxophone Quartet, he leads the ensemble that performs for special functions in and around Saskatoon. As an educator and scholar, he has written many articles that appear in the Canadian Music Educator and Canadian Winds on the subjects of conducting, woodwind pedagogy, and music education. He has contributed to The Encyclopaedia of Music in Canada, Teaching Music through Performance in Band (Vol. X), and Teaching Music through Performance in Middle School Band. As well, he has presented research papers or clinics at several international and national music conferences such as the Midwest Band and Orchestra Clinic, the World Association of Symphonic Bands and Ensembles Conference, both Regional and National College Band Directors National Conferences, the Texas Music Educators Association Convention, the Hawaii International Conference on Arts and Humanities, and the U of S Fine Arts Research Lecture Series. Dr. Gillis has remained active as a clinician and adjudicator for solo/ensemble festivals and workshops as well as guest conducting Provincial Honour Bands, the Saskatoon Youth Orchestra, and the Saskatoon Symphony Orchestra. In 2001, Dr. Gillis returned to Canada after a ten-year residence in the United States, where he spent five years as Director of Bands at Cameron University in Lawton, Oklahoma. During the last three years in Oklahoma he regularly appeared as guest conductor for the Lawton Philharmonic Orchestra for both the Master and Chamber Concert Series. As director of the U of S Wind Orchestra from 2001-10, the ensemble released three commercial CDs in 2005, 2007, and 2009. In 2006, the Wind Orchestra toured Texas with a clinic performance at the Texas Music Educators Association Convention in San Antonio. In 2004 he created the Band Directors Professional Development and the High School Select Wind Orchestra. In 2005 he created the North Saskatchewan Wind Symphony, a community ensemble comprised of some of the finest wind and percussion players from Saskatoon and the surrounding area. Dr. Gillis' professional affiliations include WASBE, CBDNA, SBA/CBA, SMEA/CMEA, NAfME (MENC), SOCAN, NASA, Kappa Kappa Psi, Phi Mu Alpha, and Pi Kappa Lambda. He earned a Bachelor of Music in Music Education degree from the University of Saskatchewan, a Master of Music degree from Northwestern University, and a Ph.D. from the University of Missouri.
Carolyn Rathgeber (Flute)
Sunday August 9th 10:30am
https://www.carolynrathgeber.ca/
Carolyn Rathgeber is a flute player based in Regina, SK and Montreal, QC. She is a second year student at McGill University, Schulich School of Music, where she is studying to receive a Bachelor of Music under Joanna G'Froerer. Her greatest passion is music, having played since the age of six. She has had many opportunities to grow as an artist that she is grateful for, both at home and abroad.
Before university studies, Carolyn participated in many ensembles including the South Saskatchewan Youth Orchestra (SSYO), where she led the flute section as associate principal for one year and then principal chair for two years, as well as the band program at Campbell Collegiate. She also completed her Grade 10 certificate from the Royal Conservatory of Music with Honours in June 2018.
She has enjoyed many exciting opportunities since beginning her degree at McGill in Fall 2019, including participating in McGill Wind Orchestra as well as small chamber ensembles and solo recitals. A highlight of her year was participating in a Baroque masterclass led by Claire Guimond.
Carolyn has previously participated in the Band Program at International Music Camp in the International Peace Garden (2015-2017), Music Horizons, a Young Artist Program at Eastman School of Music in Rochester, New York (2018). As well, she studied under Alexa Still at the Orford Musique in Orford, Quebec in August 2019. She is excited to work with Kelly Zimba, Jennifer Gunn and Alexa Still again this summer through Orford Musique.
Carolyn also participated in the Regina Music Festival every spring where she has won several awards; including the Kinsmen Scholarship Competition in 2018. She also performed in the Provincial Music Festival in Saskatoon, Saskatchewan in June 2018.
In addition to performing, she also has an interest in music pedagogy. Carolyn maintains a studio with a focus on Western Art Music in Flute and Classical Theory. She is passionate about sharing new skills with others and connecting with people through music.
Carolyn enjoys cross country skiing, traveling with her family and being active outside in nature in her free time. She is generously supported by the Saskatchewan Arts Board through the Prince Edward Arts Scholarship program.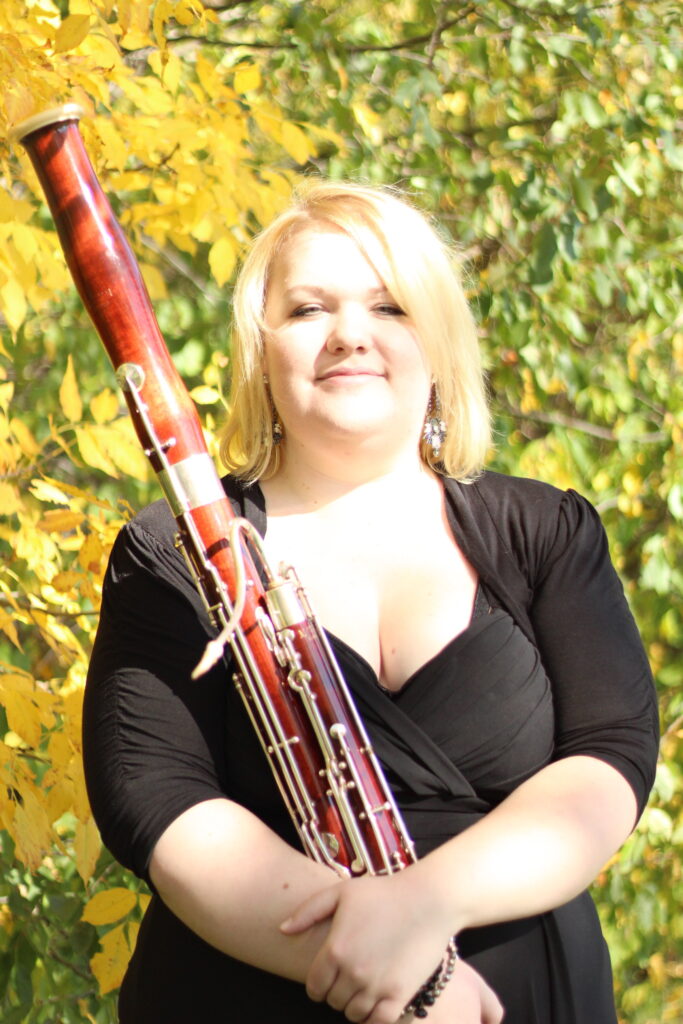 Arlysse Quiring (Bassoon)
Friday August 7th 1:30pm

Arlysse Quiring is a freelance bassoonist and educator.  She began formal music lessons at the age of four, studying and training in organ, voice, transverse flute, penny-whistle, violin, piano, and bassoon.  She was heavily involved with the southern Saskatchewan music community throughout her youth with local choirs and bands, string camps, band camps (studying with Elizabeth Raum), honour ensembles, and performing for many years with the South Saskatchewan Youth Orchestra.  She competed in flute, violin and bassoon for over a decade in the Saskatchewan Music Festival, receiving numerous awards and scholarships. With the profound encouragement and assistance of the late Greg McLean, Arlysse began studying with the Regina Symphony Orchestra's retired principal bassoonist Alan Denike at the age of 14.  In 2004 Arlysse began a scholarships and awards-funded degree at the University of Regina.  She focused her studies in performance, music history, and leadership and musical innovation with Brent Ghiglione, Dr. Barbara Reul and Dr. Alain Perron.  In 2009 Arlysse completed her Bachelor of Music, major Bassoon Performance, from the University of Regina.  A lifelong student of all facets of music, she has been privileged to attend many masterclasses and workshops, including with author James Jordan on the nature of being a musician, Tafelmusik violinist Julia Wedman on Baroque performance practice, and principal bassoonist of the Metropolitan Opera Orchestra William Short on opera performance technique at the International Double Reed Society Conference in New York City.
Arlysse made her professional performance debut with the Regina Symphony Orchestra Chamber Players at the age of 16. Arlysse immersed herself with the orchestras and wind ensembles at university, and began forming small music ensembles with her colleagues. In 2006 she successfully auditioned and began working with the Regina Symphony Orchestra. Notable performances have included Prokofiev's Romeo and Juliet with Patricio Aizaga, Berlioz' Symphony Fantastique with Boguslaw Dawidow, Saint-Saens' Symphony No. 3 with Ankush Kumar Bahl, A Duck In New York City with Connie Kaldor, and Victor Sawa's retirement performance of Orff's Carmina Burana. In 2009, Arlysse co-founded the professional classical fusion quartet Artime. The group focuses on the diversity and range of a bassoon and strings quartet, playing everything from classical, jazz and Latin music, to pop, rock and film scores. Performing across the province from casinos to concert halls, Arlysse has pushed the boundaries of bassoon repertoire with her notable and popular quartet arrangements such as Radioactive (Imagine Dragons), Carry On My Wayward Son (Kansas), and The Hunger Games Medley (James Newton Howard). Arlysse has performed across Saskatchewan, Alberta, Ontario and the United States.

Beginning her teaching and leadership career in 2006, she specializes in masterclasses, workshops, and individual lessons for bassoon, voice, piano, music theory and history. After performing with the ensemble since its inception, in 2019 she was elected the President of the grassroots chamber music ensemble Concertino Regina. The group is a membership-led non-profit organization, where professional musicians strive to create accessible classical concert opportunities while continuing to expand their performance repertoire and professional development. Notable performances have included Bill Douglas' Hymn for Bassoon and Strings, Carl Nielsen's Wind QuintetOp. 43, Luigi Merci's Sonata for Bassoon and Basso Continuo, Mike Curtis' Cuatro Cuentos, and Beethoven's Trio for Piano, Flute and Bassoon WoO. 37. It is a lifelong passion for Arlysse to push the musical boundaries for bassoon, and perpetually encourage a love of all music in her colleagues and students.

For more: