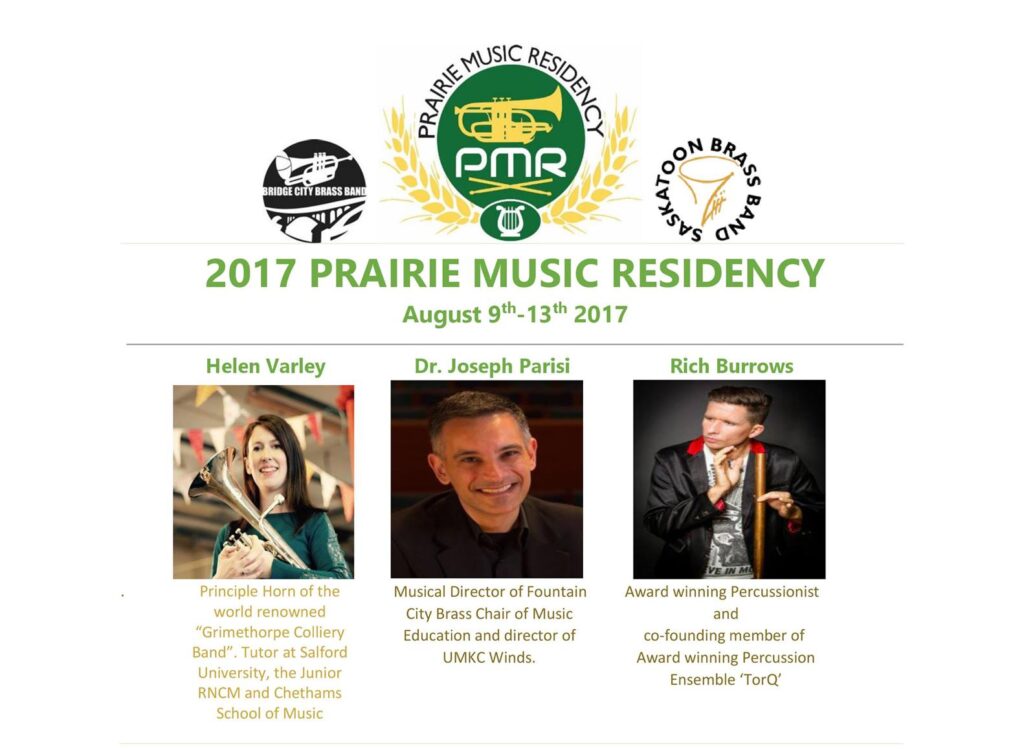 2017 PRAIRIE MUSIC RESIDENCY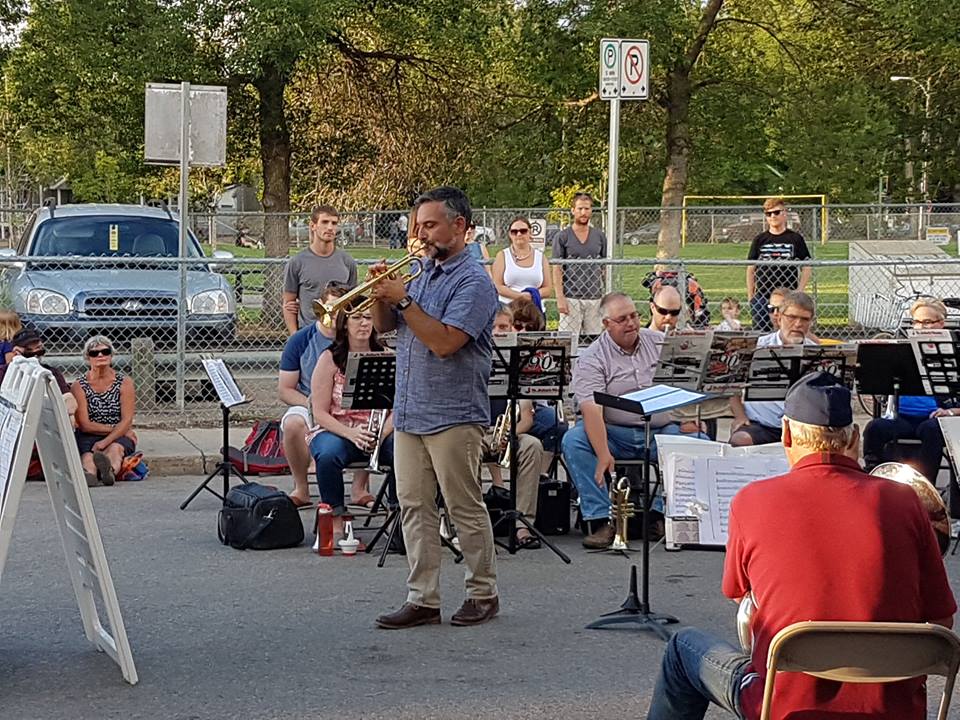 www.pmresidence.ca
Dr. Joe Parisi – Guest Conductor
Joseph Parisi is a professor at the UMKC Conservatory of Music and Dance where he conducts the Conservatory Wind Ensemble and serves as the chair of music education and music therapy. Professor Parisi has also made professional appearances both nationally and abroad conducting music festivals, adjudicating ensembles and presenting clinics, lectures and workshops throughout the United States, United Kingdom, China, and Europe.
His commitment to wind band music continues as he enters his 14th year as the director of the Conservatory Wind Ensemble. Under his direction, the Conservatory Wind Ensemble has collaborated with many outstanding artists and composers, has been invited to perform at state and regional performances, and continues to commission and perform new works each year.
Parisi has several professional recording credits to his portfolio including the Fountain City Brass Band and additional ensembles as a conductor and trumpet performer. He is the principal conductor of the Summit Brass at the Raphael Mendez Brass Institute in Denver and the Fountain City Brass Band.
Since becoming the conductor of Kansas City's Fountain City Brass Band, the group has been recognized as one of the world's top brass bands, with more than a dozen winning performances at the North American Brass Band Championships and the US Open Brass Band Championship. As a result of Parisi's work, he has been nominated numerous times for the Conductor of the Year Award, and received the winning conductor award at the 2009 Scottish Open.
Parisi completed a bachelor's degree in music education at the State University of New York at Potsdam (Crane School of Music); a master's degree in trumpet performance from Florida State University and a PhD in instrumental conducting/music education from Florida State University. While at the Conservatory, Parisi has received the Kauffman Outstanding Service Award (2005), the Kauffman Excellence in Teaching Award in (2009), and the Kauffman Award for Outstanding Research and Creative Activity (2014).
---
Helen Varley – Guest Soloist (Tenor Horn)
Helen was brought up in Yorkshire, an area well known for its prolific banding heritage, and was taught to play by her mentor James Shepherd, former principal cornet of the Black Dyke Band.
Helen spent many years as solo horn of the BT Band, followed by several years as solo horn at the YBS / Hammonds Saltaire Band. Helen has also been the horn player with the highly successful 10-piece brass ensemble James Shepherd Versatile Brass, and in 2013 Helen joined the Black Dyke on 1st horn.
In 2003 and 2004 Helen reached the finals of the British Open Solo contest, on both occasions winning the instrumental title of Champion Horn Soloist, a prize which she won again in 2008.
Helen studied Physics with Acoustics at Salford University, and worked for over a decade as an acoustic consultant for the UK's largest architectural practice, involved in the design and construction of building projects around the UK and abroad, including concert halls and educational buildings.
In 2016 Helen left the construction industry to follow her passion in music, undertaking a Masters degree in performance at the Royal Northern College of Music in Manchester. Helen is now developing a successful teaching career, and is currently tenor horn tutor at Salford University, the Junior RNCM and Chethams School of Music, as well as working as a peripatetic brass teacher for Bradford Music Service and providing occasional teaching work at Kneller Hall Royal Military School.
Helen was delighted to accept the position of solo horn at the Grimethorpe Colliery Band in 2017, a band that she has admired from a young age ever since hearing the wonderful sound of a brass band for the first time on Grimethorpe's acclaimed CD 'Classic Brass'.
Richard Burrows – Guest Percussion Director
Richard Burrows has had a substantial career throughout North America, Europe, Mexico, Australia, and Asia. Starting out in his mother's kitchen on pots and pans, and carrying around his trusty Fisher Price drum, Richard now prides myself having earned two Master's degrees from the University of Toronto. These degrees have honed his craft to create a unique approach in both education and performance. Richard has studied and performed with numerous artists that include: NEXUS, and Nebosja Jovan Zivkovic, and has collaborated internationally with artists such as Evelyn Glennie (Scotland) and Synergy Percussion (Australia). As an active freelance musician within his community and beyond, he has played with numerous orchestras throughout Ontario, performed and recorded with famed bass clarinetist Kathryn Ladano in their duo "Stealth," and with new music projects for InterArtsMatrix. In 2012, Richard is the artistic director of Open Ears Festival of Music and Sound. His first festival with Open Ears, entitled Environmental Rhythms, involved the curation of 70+ percussionists in John Luther Adams' epic masterpiece, Inuksuit. Richard is a past principal cast member with ScrapArtsMusic and a founding member of TorQ Percussion Quartet.
With ScrapArtsMusic, Richard held a one-month residency in Melbourne, Australia to perform for the 2006 Commonwealth Games and was selected to perform in the Percussion All-stars Orchestra.
With TorQ, he has performed throughout Canada, USA, and Europe, and competed as the sole Canadian percussion quartet for the International Percussion Ensemble Competition in Luxembourg, EU. TorQ has worked alongside famed Canadian composer Christos Hatzis as the ensemble-in-residence for "Composition for Percussion" at the University of Toronto. They have since commissioned over 100 new works for percussion and have released three albums with critical acclaim. Richard is an artist for Yamaha Canada Music, Innovative Percussion, Black Swamp Percussion, Remo Percussion and Dream Cymbals and Gongs.
---
Dean McNeill – Guest Brass Tutor
A Full Professor at the University of Saskatchewan Canadian trumpet player/composer Dean McNeill has received a Special Recognition Award from the Saskatchewan Jazz Festival for his contributions to jazz in Saskatchewan. On the CD O Music, Dean performed as soloist the composition Kalla which won the 2012 Western Canadian Music Award for Classical Composition of the Year.
A member of the Saskatoon Symphony, Dean directs the Saskatoon Jazz Orchestra, UofS Jazz Ensemble and the Saskatoon Jazz Society's Jazz Workshop program.
Dean has directed the International Music Camp's Faculty Jazz Ensemble, the UofS Kenderdine Campus' Jazz Composer's Retreat program and has led many of his own professional large and small jazz ensemble tours, many of which have been recorded by CBC Radio. A Yamaha artist Dean has performed as a guest artist with the National Youth Band of Canada, as well as with professional ensembles such as the Winnipeg, Edmonton, Vancouver Jazz Orchestras and the Calgary Creative Arts Ensemble.
Dean has adjudicated throughout Canada and the Unites States and performed alongside the likes of of Kenny Wheeler, Pat LaBarbera, Michael Cain, Hugh Fraser, Tom Banks, Brad Turner, Kelly Jefferson, David Braid, Bob Mintzer, Denzal Sinclaire, PJ Perry, David Braid, Ingrid Jensen, Jon Balantyne, Campbell Ryga and many others.
Dean holds music degrees from the University of North Texas (Masters), McGill University (Undergraduate), and Grant MacEwan University (Music Diploma). He has released two CDs respectively entitled Prairie Fire: Large Jazz Ensemble Music of Dean McNeill and Mélange: New Music For Trumpet and Piano. Most recently Dean composed repertoire and performed on the CD Complete Rebirth of the Cool.
A recipient of the U of S Department of Music's Dwaine Nelson Teaching Award Dean's past administrative service has included Head of the U of S Department of Music (2004-2009) and serving as a board member on Jazz Canada (i.e. Canadian chapter of the International Association of Jazz Education) and the Canadian Music Centre (i.e. Prairie Region Board).